Real Estate and Property Management is being revolutionized with AQARAATS, a new and innovative online real estate e-commerce solution and, at the same time, much more.
AQARAATS was established in 2019 and is notable for its online User Experience (UX) friendliness, ease of navigation when searching online for any product and/or service, its transaction speed when using any of the available payment methods along with our fast and reliable 24/7 online access.
AQARAATS is unique in its offering to each real estate entity with an online market place featuring a rich and attractive merchant ecosystem bringing together local real estate entities from every property related field be it property renting, sale or projects.
AQARAATS delivers a hassle free and satisfying online experience for both tenants/buyers and real estate entities which meets all their needs.
AQARAATS while continuing to add new real estate entities and extend its customer reach is constantly listening to its users and will continue to add features and benefits to ensure consumer satisfaction whenever possible.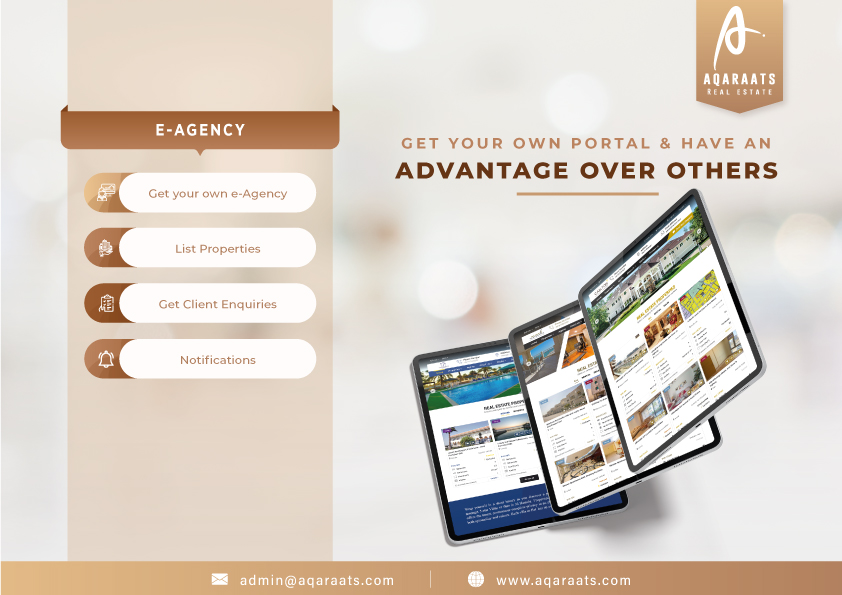 e-Agency
Aqaraats e-Agency
provides property e-commerce website developed with best in class technology and features.
Aqaraats e-Agency
Features:
Get your own e-Agency
List Properties
Get Client Enquiries
Notifications

Property Marketplace
Aqaraats Property Marketplace
is one of the largest properties hub in the region which provides properties listings for Rent or Sale.
Aqaraats Property Marketplace
Features:
All Real Estate Agencies In One Place
Advertise Premium & Featured Properties
Online Marketing By Aqaraats
Receive Direct Inquiries From Clients
Reach Wider Client Base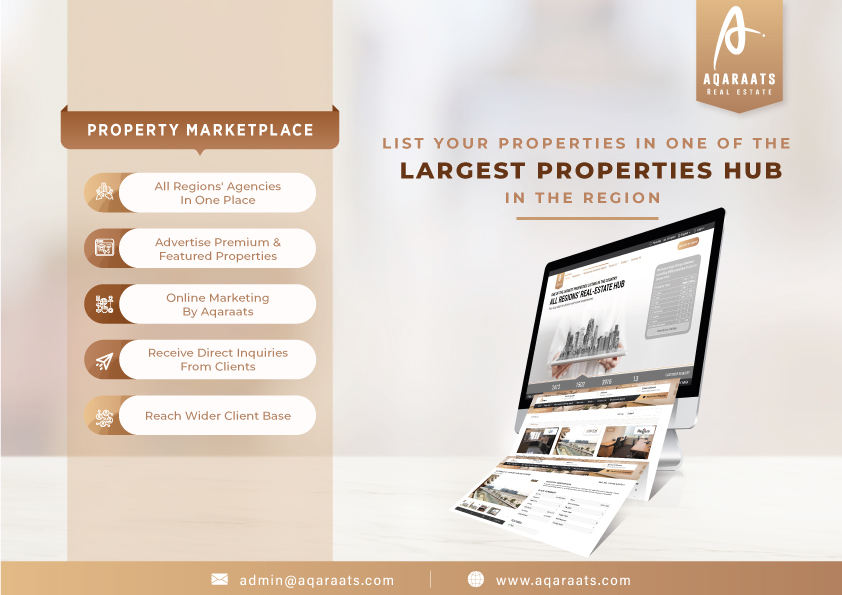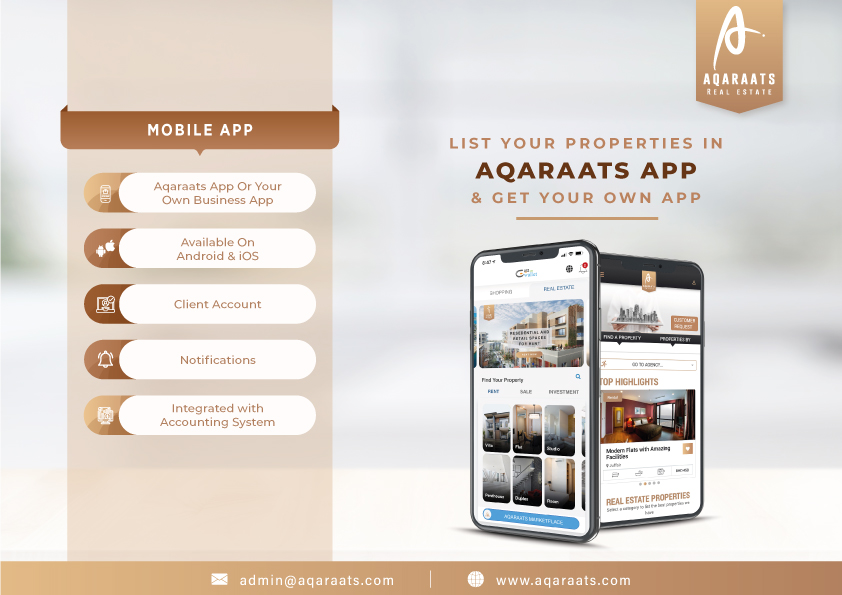 Mobile App
Aqaraats Mobile App
is a collection of real estate e-agencies clubbed under one mobile app available for Apple and Android phones/tablets, catered to showcase the agencies' properties to the potential clients.
Aqaraats Mobile App
Features:
Aqaraats App or Your Own Business App
Available for Android or Apple phones/tablets
Cient Account
Notifications
Integrated with Mallats Accounting System

Tenants / Client Portal
Aqaraats Tenants / Client Portal
provides the facility to the tenants/clients to login to the portal and view their details including rental invoices, contracts, due rent etc. It also serves as a tool to communicate with tenants / clients.
Aqaraats Tenants / Client Portal
Features:
Tenant Login
Invoice View & Pay
Receipts
Payment Gateway
Inquiries & Reports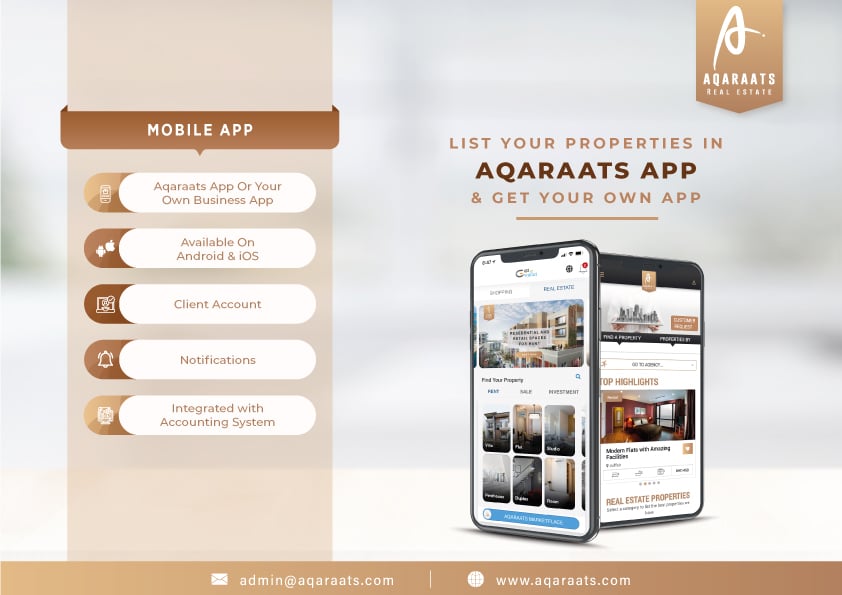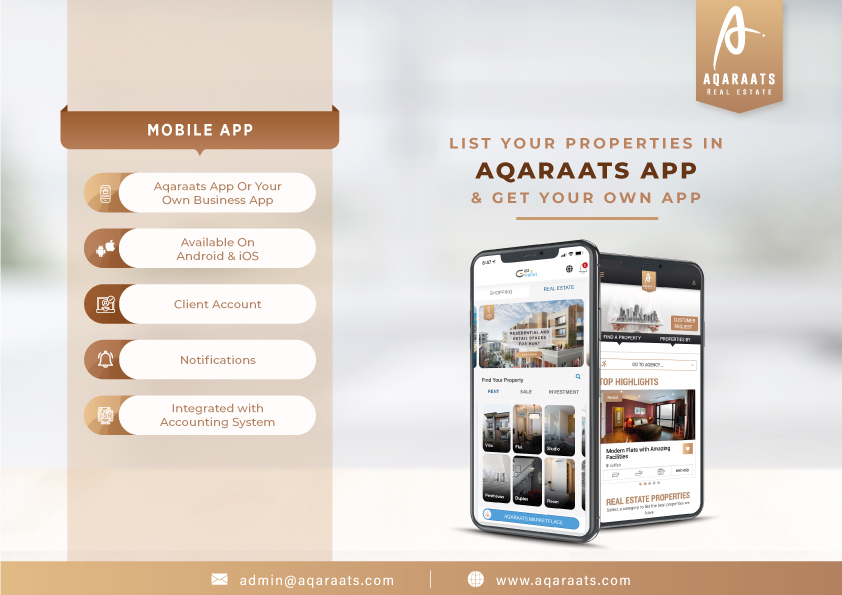 Accounting System
Aqaraats Accounting System
provides a complete back office accounting solution which manages properties rental and sale, services billing and financials with VAT. It is highly scalable which allows additional modules like procurement or payroll to be added at any time.
Aqaraats Accounting System
Features:
Complete Back Office System
Real Estate & Services Billing
Accounting & VAT
Real Time Reports & Dashboards
Easy to Use Web Interface
E-Agency Management
In-built Marketing Tools